- New York 04/15/2015 by Linda Perry Barr (WBAI News)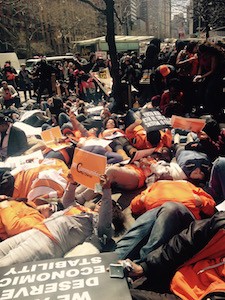 "What do we want? Fifteen! And when do we want it? Now!"
It's the Fight for 15. The fight for $15 an hour and the fight to form a union at fast food franchises throughout the country. Part of the strategy of the #FightFor15 has been to pressure McDonald's to take responsibility for workers and workers' conditions at its franchises.
"Since the beginning of the campaign, workers have been saying McDonald's is the boss."
Kendall Fells is National Organizing Director with the #FightFor15.
"They know that McDonald's corporate comes to their store. It's responsible for how much the meals cost. They are responsible for what uniforms they wear. They're responsible for if they are going to do all day breakfasts or not. That means they are also responsible for workers that are living in poverty and not getting raises, making $7.25, living in homeless shelters and can't feed their kids. And since McDonald's makes $5 or $6 billion a year in profit, we think they have enough to make sure workers are not living on public assistance."
"We're fast food workers. We're also retail workers, construction workers, child care workers. I mean we run the gamut of basically low-wage workers who are tired of being treated with disrespect. We're only fighting for what we feel like we need and deserve."
Jemere Calhoun is a McDonald's worker. He's a crew trainer and has been working at the fast food giant for over four years. He makes $9.35 an hour. He says $15 would make all the difference to him and his family.
"It's a living wage. It's what I can make so I don't have to worry about feeding my daughter or having to get help from my family, get government assistance and take four or five jobs that has me working around the clock, and I barely see my family."
Bell ringing. "I need $15. an hour. $8.75 we can't support our families!"
Letisha Pasmino is a is a McDonald's worker in Jackson Heights, Queens. She's a food service worker handing out the fast food meals to customers.
"They don't want to give us tips, so $8.75. I can't support my son, my family. It's too much. It's too much."
Along with other workers, she's lying down on the ground in front of a Manhattan McDonald's in protest.
"If we have to lie down on the floor, we will."
She wants to form a union.
"I believe that we will win," chant protesters.
According to Jose Lopez with Make the Road New York the message is very simple.
"$8.75 doesn't cut it. At the national level $7.25 doesn't cut it. Families need to eat. Families need to survive. We want to see $15. We want to see a union."
Jeroh Ware wears a shirt which says "I can't breathe." He's a fast food employee. He works for McDonald's. He says we're trying to get out of poverty.
"We're trying to stop police arrests. We're trying to tell everybody that our lives matter and they need to be treating us as such."
He says, "the world is the only place that says we are not equal. But we're equal. Our lives matter. We want to be to take care of our families. We want to be able to walk through the streets and not get killed by police."
NYS Assembly Member Linda Rosenthal says the Fight For $15 is awesome:
"People are trying to take back the power. Instead of being subject to groveling and accepting what big corporations that make bazillions of dollars in profits are giving, we're demanding what is right for workers in New York State."
Assembly member Rosenthal says when she goes back to Albany, she's going to continue the fight for $15.
"We're going to rally around $15/hour and see what we can get done. We need the help of the Governor. We need the help of the State Senate, but this is a noble cause and we're going to fight hard for it."
And so what's the next step for workers? More pressure, say activists, until McDonald's comes to the table, until they improve working conditions and raise wages at all of their fast food restaurants throughout the country.
LP, WBAI News, NY