"What do they need to put a police officer away?" asks Sean Bell's Mom
---
- New York 03/11/2015 by Linda Perry Barr (WBAI)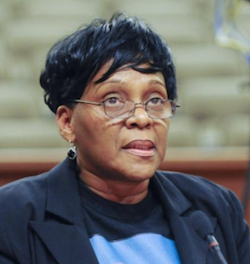 "Is it in their law they can not go to jail for killing somebody, especially unarmed."
Valerie Bell, is Sean Bell's mom. Her 23 year old son was was killed in 2006 after officers fired 50 bullets into a car he was driving in Queens on his wedding day. Bell testified yesterday at a NYS Assembly Hearing on Criminal Justice Reform.
She says, "OK somebody has a gun maybeI can understand, maybe they need to start shooting the leg before they kill him, shoot him 50 10, 20 times. What has to be done?"
Three of the officers who fired the shots into the car Bell's son was driving were later acquitted of manslaughter and reckless endangerment by a judge.
Valerie Bell is one of 18 families of people killed by cops who has asked Governor Cuomo to appoint a Special Prosecutor to look into all cases of police killings moving forward. And they asked for a meeting with the Governor, they are still waiting.
Yul-san Liem, is co-director of the Justice Committee. She made the case at the hearing for the appointment of an independent Special Prosecutor, citing stories of people of color killed by police starting with Kimani Gray. The 16 year old boy killed on a Brooklyn street in 2013.
Please click on the arrow above for more.