WBAI News
---
- New York 03/05/2015 by Linda Perry (WBAI)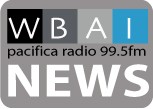 -Activists Demand Sit-Down with New York Federal Reserve Bank President and
Center for Popular Democracy has new report: Wall St. Main Street and Martin Luther King Boulevard.
-
Linda Sarsour
on Muslim Surveillance by NYPD at New York City Council Hearing on Police/Community Relations.
-Mayor de Blasio releases plan to make
streets safer
in outer boroughs.
-Former NYC Council Member Daniel Halloran convicted of fraud and taking kick-backs
-New York City Office of Emergency Management Issues
Weather Advisory
for today.