- New York City 02/20/2015 by Linda Perry Barr (WBAI)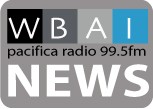 "You have Mason Tenders. You have Brick Workers. You have Iron Workers, Structural and Ornamental, Sheet Metal Workers that do the water proofing, the air conditioning, the heating. You have Plumbers, Steam Fitters. You have Carpenters. You have Sheet Rockers... "
Mike Coyle, a Local 40 Iron Worker, stands with his brothers in front of an empty lot where a high rise is about to go up. It's a sporadic rally by union members at 111 W. 57th Street. There are no signs, no banners, no chants. It's pretty calm. But there is anger, anger at a developer JDS and Michael Stern, the managing partner, who is about to build a luxury residential condo with non-union workers.
"We're out here to fight for a living standard for New York City residents and people in the surrounding area," says Chaz Rinkevich with Local 79, the Construction and General Building Laborers Union. "It's disgusting that JDS will sell their property for millions and won't pay workers a fair salary."
Rinkevich says, "When you build cutting corners, the inevitable result is shoddy work. It's going to be a dangerous situation." JDS did a building in Chelsea using non-union workers "and we've observed lots of building materials being ripped out of that building, because the work was improper. They brought in contractors doing demolition work, taking out work which had just been put in after people spent millions of dollars to get those apartments."
"What he is doing is getting top dollar and he's not giving out top dollar," according to Robert Amato with Local 28, The Sheet Metal Workers Union. "And it's not the worker. We don't begrudge the worker. But you go around the corner to a union job and all these people have licenses to do the type of work. We go to school. We get education. We're safe. You walk in there. There isn't one person that has education and safety, that has a license to operate a certain piece of equipment, a certain machine."
The new West 57th Street building on what has come to be known as Billionaire's Row is to be the largest residential project in the city to date to use non-union workers. The building is to house just one apartment per floor with units to sell for more than $6,000 per square foot.
WBAI reached out several times to Michael Stern and JDS Developers. When we finally got through to their PR Firm, M-18, their vice president thanked us for reaching out, but would not connect us with Michael Stern or give us a written response to questions about the intention to use non-union workers on the building at 111W 57th street.
Rinkevich says maybe Stern is reasonable and when he sees facts and figures, he'll come around. We'll keep you posted.
Please click the arrow above to hear our full report.