New Yorkers Hold Vigil for Tulile, Lynched in Santiago
---
- New York City 02/13/2015 by Linda Perry Barr (WBAI)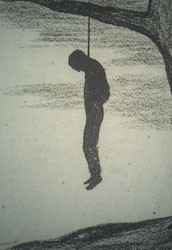 "One Island, One Family."
One of the chants outside the office of Dominican born New York City Council member Ydanis Rodriguez last night..
"No Racism in the Dominican Republic"
People gathered in Washington Heights to denounce the lynching of Tulile, a Dominican born of Haitian descent. Tulile was found lynched from a tree in a public park in Santiago on Wednesday. Police there said the motive was robbery. They quickly rejected racism as a motive, but Dominicans in NYC tell a very different story.
Please click the arrow to hear our report.