Morning News
---
- New York 02/06/2015 by Linda Perry Barr (WBAI)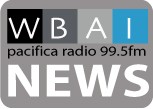 Here are some local news headlines:
-The NAACP, the NYCLU, Legal Aid, NYC Public Advocate Tish James and others have petitioned the court in Staten island to unseal the records in the Eric Garner Case.
-Metro North/SUV train collision timeline emerges
-Mayor Bill de Blasio delivered his Second State of the City Address this week, making affordable housing the centerpiece of his presentation. However tenant advocates say the call for market rate apartments with only 20 percent affordable units isn't enough.
-Former NYS Majority Leader Malcolm Smith convicted yesterday in federal corruption trial.
-New York City's Pre-k enrollment process simplified for 2015-2016 applications
-Weather today through Sunday night