- New York City 01/26/2015 by Linda Perry (WBAI)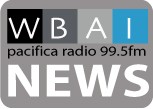 The nor'easter named Juno is expected to intensify and become heavy beginning this evening in our listening area. According to the National Weather Service, travel will be completely crippled by Tuesday morning.
"Even walking will be dangerous," said Mayor de Blasio. Laying out emergency plans for the city, he said as of 11pm, roadways will be available to emergency vehicles only. That means no food delivery bicycles. Nothing that has to do with leisure will be permitted on New York City streets.
"The travel ban is for everyday residents going about their business." By 4pm the mayor's office tweeted if you haven't started your commute home, please do so now.
The city does not know when the ban will be lifted. de Blasio said, "We need people to stay off the road tonight." This will continue until the situation is considered safe. By 6pm New York City parks will be closed, because of the potential risk of falling branches.
And Public Schools will be closed tomorrow Tuesday.Chancellor Carmen Farinia said Regents Exams for high school students will be given on Thursday. All Broadway shows have been cancelled.
Alternate side parking is canceled through Wednesday. Garbage pickups are suspended. The mayor is urging that people not dig out their cars. He says to leave your car where it is.
311 or nyc.gov is the best bet for information, but use 911 for real emergencies/
The Department of Homeless Services is out combing the city for people in need of help. Call 911 if you see someone in danger.
People with heat or hot water problems, report them immediately to 311.
"Every time we face these situations we can help our neighbors by checking in with them. Make sure they have what they need," said the Mayor.