Mind-blowing Corruption Charges Against NYS Assembly Speaker Sheldon Silver
---
- New York 01/22/2015 by Linda Perry Barr (WBAI)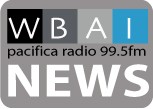 Sheldon Silver is accused of using the power and influence of his office to obtain millions of dollars masked as legitimate income earned as a private lawyer.
U.S. Attorney for the Southern District of New York Preet Bharara said, "The greedy art of secret self-reward was practiced with particular cleverness and cynicism by the Speaker himself."
Silver was arrested by the FBI Thursday morning and released later in the day on $200,000 bail.
Please click on the arrow above to hear our report.