The Legacy of Dr. King in 2015
---
- New York City 01/19/2015 by Linda Perry (WBAI)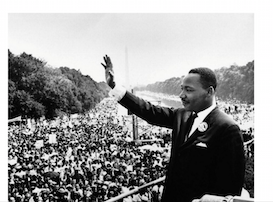 "Our only hope today lies in our ability to recapture the revolutionary spirit," said Dr. King at Riverside Church in 1967. On Sunday Dr. and Coretta Scott King's eldest son, human rights advocate Martin Luther King III stood at the pulpit where Dr. King once stood. He said today is the 29th King Federal holiday in the United States of America, but it is time for observance not celebration. "How do we celebrate in a nation with 60 million people living in poverty? "
His was one of the many voices who paid tribute to Dr. King at Riverside Church in what was called a "Call to Conscience." The program was dedicated to recapturing the revolutionary spirit to fight against what King called the "triple evils of racism, economic exploitation, and militarism."
Here are some of the other voices in the program, heard in this report:
"Riverside Rising Voices" Children's Choir; "Down by the Riverside" by Combined Choirs; Dr. Amy Butler, Senior Minister at Riverside Church; Rev. Dr. James Forbes, founder of progressive policy think-tank The Drum Major Institute; and Steve Griffith, Commanding Officer of the NYPD 26th Precinct in Harlem.
Please click the arrow above to listen.