New York City Launches Municipal IDs
---
- New York City 01/11/2015 by Linda Perry (WBAI)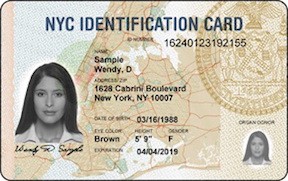 Today was the launch for the city's municipal identification program. It's the largest in the country, The card is called IDNYC.
Approved last year, it is available to New Yorkers starting today, While It is aimed at those who do not currently have an ID, including an estimated 500,000 immigrants in the city, the ID is really for all New Yorkers.
Officials gathered at the Queens library. Queens is where 46 percent of the residents are foreign born. New York City Council Speaker Melissa Mark-Viverito said, "It may be yucky outside, but it is a beautiful day nonetheless. The Speaker said,"We often talk about not leaving people behind. Today we're sending a message that New York City is a beacon of hope."
Please click the arrow above to hear our report and click here for more information about the new municipal IDNYC.