Paris Terror Attacks
---
- New York 01/09/2015 by Linda Perry (WBAI)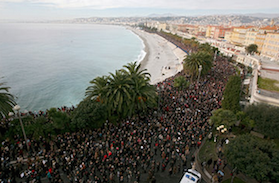 Said and Cherif Kouachi are dead. The two brothers who were on the run since Wednesday were wanted in the massacre of 12 people at
Charlie Hebdo
, the Paris satirical weekly. They were holed up at a printing warehouse in the north of Paris, near Charles de Gaule airport. Police surrounded the warehouse, freed one hostage and then killed the brothers as they came out shooting.
In another part of Paris, in the north, hostages were taken at a Kosher grocery store this afternoon. An official said one of the hostage takers, Amedy Coulibaly, is the same person wanted in the murder of a policewoman on Thursday and is connected to the two brothers in the newspaper attack. Four hostages were killed. Fifteen were freed.
French President François Hollande reinforced France's determination to fight all that is divisive, referring to racism and anti-semitism. He said the act of terrorism in the kosher grocery is undeniably an act of anti-semitism. The terrorists, the fanatics who have committed these acts, he said, have nothing to do with Muslims.
Outside the offices of Charlie hebdo where people gather signs say: "Je suis Charlie; Je suis Policier; Je suis En Deuil, Je suis Juif." (I am Charlie; I am a Police Officer; I am In Mourning. i am Jewish.)