- 01/07/2015 by Linda Perry (WBAI)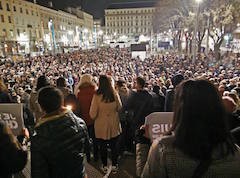 Shots fired in Paris today.
Police say twelve are dead and five seriously injured in the attack on the satirical newspaper, Charlie Hebdo. Three men with assault rifles fled the paper. One said, "On a vengé le prophète Mohammad, on a tué Charlie Hebdo" We have avenged the prophet Mohammad, we killed Charlie Hebdo. At least 8 journalists are dead.
The masked killers gained entry to Charlie Hebdo offices as a cartoonist, a young mother, entered. Corrine Rey said she had returned from picking up her daughter from kindergarten when she was confronted by two heavily armed men wearing balaclavas and let them into the offices. The gunmen walked into an editorial meeting and fired repeatedly. She survived the attack by hiding with her daughter under her desk.
It is France's deadliest terror attack in at least two decades. France is on high alert. Charlie Hebdo has been repeatedly threatened for its caricatures of the Prophet Muhammad and other controversial sketches.
French President Francois Hollande said there is no doubt it was a terrorist attack of exceptional barbarity.
Hollande said France will hunt the terrorists for as long as necessary to stop them and bring them before a judge.
Today NYPD Commissioner Bill Bratton assured the media that the city is ready in case there is a similar attack in New York City.
World leaders have reached out to President Hollande and the French people expressing their outrage and solidarity. UN Secretary General Ban ki-moon said it was a horrendous, unjustifiable and cold blooded crime meant to divide.
On social media the overwhelming response has been support for Charlie Hebdo and condemnation for the attack on free speech and freedom of the press. Le Monde one of the most widely respected French newspapers in the world said they are helping to continue publishing the satirical weekly. Meanwhile spontaneous demonstrations have erupted throughout France. People hold signs which read "Je suis Charlie," I am Charlie.
WBAI News New York
Please click the arrow above to hear our report.