Andrew Cuomo Gives His Dad A Moving Tribute
---
- New York 01/06/2015 by Linda Perry (WBAI)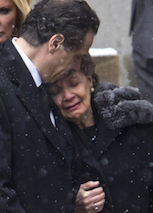 A funeral mass for Mario Cuomo, New York's 52nd Governor, was held at Ignatius Loyola Church in Manhattan on Tuesday.
Family members and dignitaries from both sides of the political aisle gathered on the snowy day to mourn the Democratic Party icon. The 82-year-old died Thursday, hours after his son was inaugurated in New York City and then again in Buffalo for a second term.
Andrew Cuomo said his dad today would be saying, "It's time for this city to come together."
Click the arrow above to hear our report.