Crime is down in New York City
---
- New York City 01/06/2015 by Linda Perry (WBAI)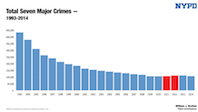 "Broken Windows is here to stay. Stop-and-frisk is here to stay," said Commissioner Bill Bratton at police headquarters in downtown Manhattan.
The news conference Monday afternoon was to tout improvements in crime statistics, "Major crime is down 4.6 percent in 2014 compared to 2013," said Mayor de Blasio.
Both the Commissioner and New York City's Mayor used the occasion to admonish officers who showed disrespect to the Mayor by turning their backs to him at recent funerals for slain officers, but in their defense Bratton said, "There's a lot going on in the department at this particular point in time that's of concern to officers." He proceeded to explain how open contracts and changes in retirement plans are affecting the morale of officers. The Mayor met with five police unions last week to try and resolve these conflicts and more meetings are forthcoming.
Meanwhile Bratton and de Blasio said police reforms are creating successful changes appreciated by cops and good for communities throughout the city.
Please click the link above to hear our report.