- New York 02/05/2014 by Linda Perry (WBAI)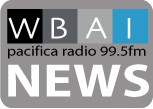 It was a rainy Sunday. In Brooklyn Mayor Bill de Blasio honored Officer Wenjian Liu, murdered along with officer Rafael Ramos in their patrol car on December 20th.
He said detective Liu was a kind officer who gave of himself,
"Detective Liu's story is such a powerful American story. It is such a classic New York story – a young man who came here from China with his parents at the age of 12 in search of the American dream, in search of the dream that generations have come to New York to find."
As the mayor delivered his heartfelt eulogy, outside the funeral home thousands of NYPD officers turned their backs to the large monitor which showed him speaking about his hope for the new year
"Let us rededicate ourselves to those great New York traditions of mutual understand and living in harmony."
NYPD disrespected the Mayor three times recently. Officers first turned their backs to de Blasio when he visited the hospital where Ramos and Liu were treated. They then turned their backs to him outside the church where Ramos' funeral was held December 27th. And some turned their backs on de Blasio at a police graduation ceremony on Monday.
This even though Commissioner Bratton sent a memo to the force ..
Saying "A hero's funeral is about grieving, not grievance,"
He said I issue no mandates and I make no threats of discipline," the memo said. "But I remind you that when you don the uniform of this department, you are bound by the tradition, honor, and decency that go with it."
This was read at the roll call ahead of the funeral service Sunday.
Even so officers turned their backs to the mayor. And a tall white sign with blue lettering was held above those gathered, outside the funeral home. It read God bless the NYPD with a police crest below. Beneath the sign read Dump de Blasio.
Officers who turned their backs on de Blasio on Sunday spun back around when Bratton took the podium to speak after the Mayor.
"In the days after Detectives Liu and Ramos were assassinated I found myself wondering why do we always lose the good ones? Then I realized it's the law of averages. Almost all of them are the good ones, very few are not."
Liu's funeral arrangements were delayed so relatives from China could travel to New York, where he married Pei Xia Chen this fall. His wife said Wenjen liu is her hero.
"He is my soulmate."
Meanwhile an NYPD slowdown has resulted in a 66% drop in broken windows arrests without an uptik in crime across the city.