- New York 12/22/2014 by Linda Perry (WBAI)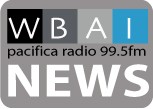 An assassin traveled to NYC over the weekend:
Just quickly about Ismaaiyl Brinsley, date of birth 10/31/86. He's a 28 year old male. He has fifteen prior arrests in Georgia for assorted crimes: misdemeanor assault, shoplifting, grand larceny and gun possession.
Saturday afternoon, two NYPD Officers were murdered in their police car. Rafael Ramos and Wenjian Liu were ambushed and shot dead by Ismaaiyl Brinsley who approached the squad car from behind and fired four shots killing the officers. This was in the Bedford-Stuyvesant section of Brooklyn.
Brinsley then ran into a subway station and killed himself. Right before the shooting he approached people on the street and asked them to follow him on Instagram. Then he told them, "Watch what I'm going to do." Brinsley's instagram account is where most of his rants were says Robert Boyce NYPD Chief of Detectives:
And what we're seeing from this right now is anger against the government.There is one where he burned the flag and made some statements, others where he talks of anger against the police. He specifically mentions Michael Brown and Eric Garner.
Boyce said other postings showed self despair, anger at himself and where his life was at that point. Hours earlier, Brinsley shot and wounded his ex-girlfriend at her home outside Baltimore. Seven hours later, Baltimore-area police warned the New York City Police Department that Brinsley was in the city and bent on violence. But it was too late to stop the murders. Why did it take so long for the Baltimore police to warn the NYPD is still unknown, especially since they were able to ping his phone and know where he was headed. Brooklyn is where Brinsley was born. It's where his mom lives and where he fathered a child. He frequently traveled from Baltimore to NYC using Bolt buses, which is what he did after shooting his ex-girlfriend.
I would like to thank all those who shared their sympathy and support for our beloved family member, Rafael Ramos.
In the community of Cyprus Hills in Brooklyn where NYPD officer Rafael Ramos lived, family and elected officials gathered Sunday evening. The officer's aunt, Lucy Ramos, called for unity between the NYPD and the community:
I hope and pray we can reflect on this tragic loss so we can move forward and find an amicable path to a peaceful co-existence. We would like to extend our condolences to the Liu family also.
Congressmember Hakim Jeffries said the act of violence is terrible and unthinkable for the city, the NYPD and families of the officers:
We're hopeful that this tragedy is not in vain and we will be able to heed the words of the Ramos family and bring the city together to heal. But before we do that, we have to be respectful to the Liu and Ramos families, make sure they are appropriately buried as the heroes they are and figure out how to come together as the resilient city that we are.
NYPD Commissioner Bill Bratton and Mayor Bill de Blasio attended Sunday Mass at St. Patrick's Cathedral, where Cardinal Timothy Dolan called for calm:
We pray for our city. Might civility prevail as it has so often in the past.
The head of the police union, Pat Lynch, who is continually fanning flames of division between the police and the administration, said the Mayor has blood on his hands.
NYC's Public Advocate Tish James said, "Divisive rhetoric will do nothing to honor the dignity of these two fallen officers or sooth the piercing pain of their families. A demented assassin's bullet cannot silence the cries for reform," she said. "In the coming days and weeks we will continue the important conversations around policing in our city."
And that's the message delivered as well by Brooklyn's Borough President Eric Adams. He urges peace as the city mourns the senseless deaths of Officers Liu and Ramos. He asks that the public refrain from protesting until the slain officers are buried. Outside the 84th precinct in downtown Brooklyn, Clara McKoy expresses the sorrow of many:
I am so hurt and sad because they are sitting in their car and you just walk up and shoot them like that. I am so speechless, all I can do is cry. This is not right and this has to stop, because the police is out to protect us.
A candlelight vigil was held Sunday evening for the fallen officers at the location of the shootings.
Linda Perry, WBAI News, New York