- Washington D.C. 11/08/2014 by Mike Sacks, The National Law Journal (New York Law Journal)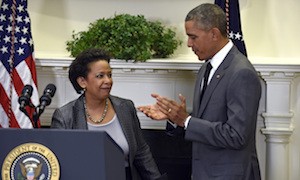 President Barack Obama on Saturday formally announced his intent to nominate U.S. Attorney Loretta Lynch to succeed Attorney General Eric H. Holder, Jr., as the nation's chief law enforcement officer.
The president made no specific comment on whether he will send her nomination to the Democratic-led lame duck Senate or to the incoming Republican majority, insisting only that she be confirmed "without delay." Citing White House aides, POLITICO has reported that the President will defer to the Senate's leaders on timing.
Obama, flanked by Lynch, 55, and Holder in the White House's Roosevelt Room, said he "can think of no better public servant to be our next Attorney General."
Lynch, who is currently serving for the second time as U.S. Attorney for the Eastern District of New York, holds an undergraduate degree from Harvard and has led high profile prosecutions fighting terrorism, the mafia, financial services fraud, and civil rights violations, including the case against New York Police Department officers who brutalized Haitian immigrant Abner Louima.
Outlining Lynch's record, the president said, "It's no wonder that the Senate unanimously confirmed her to be the head of the U.S. Attorney's office in two separate situations, once under President Clinton and once under my administration, and it's my hope the Senate will confirm her a third time without delay."
Lynch, the U.S. Attorney for the Eastern District of New York, thanked the president for the nomination and pledged that "I will wake up every morning with the protection of the American people my first thought and I will work every day to safeguard our citizens, our liberties, our rights and this great nation which has given so much to me and my family."
Lynch's family, along with Senate Judiciary Committee Chairman Patrick Leahy (D-Vt.), MSNBC host and activist Al Sharpton, and U.S. Solicitor General Donald Verrilli, Jr., were in attendance.
Holder's resignation announcement at the end of September set off weeks of speculation about who would replace him. Lynch, Solicitor General Donald Verrilli, Jr., and Secretary of Labor Thomas Perez, were all said to be on the President's shortlist.
The next Senate's expected—and after Tuesday's elections, imminent—GOP majority raised questions not only about who would be nominated, but when the president would submit the nomination for Senate confirmation.
Senate Minority Leader Mitch McConnell said on Friday night that "the nomination should be considered in the new Congress through regular order." McConnell is all but certain to be the majority leader during the 114th Congress.
If confirmed, Lynch would be the first female African-American attorney general.
Read more:
http://www.newyorklawjournal.com/id=1202675943223/Obama-Nominates-Lynch-to-Replace-Holder-as-AG#ixzz3IXPorFAa