The Passing of Jonathan P. Hicks
---
- New York City 11/03/2014 by Ruben Diaz Jr. (Bronx Borough President)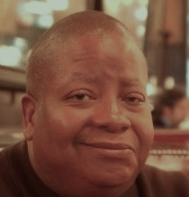 Jonathan HIcks died Monday afternoon at his home in Brooklyn. He was 58 years old. His wife, Christy DeBoe Hicks, said the cause was pancreatic cancer.
Bronx Borough President Ruben Diaz:
"Jonathan Hicks was a good friend, and someone who I knew not only through his work in journalism at The New York Times, the Amsterdam News and BET. Jonathan had a personal impact on me, encouraging me to follow my dreams, stay confident in myself and to aspire for greatness. These words were especially powerful coming from someone who I thought should only care about the powers that be. Instead, in what I later realized was that, in classic Jonathan Hicks fashion, he cared more about inspiring a young father and college student working as a messenger, urging me to stay in school and provide for my family.
"I've considered Jonathan a friend and a mentor ever since. Jonathan's impact on the world, through his writing, inspirational music and mentorship to dozens of young men like myself cannot be adequately measured, and I offer my condolences to his family and friends in their time of loss," said Bronx Borough President Ruben Diaz Jr.