Some of the News for Thursday October 23, 2014
---
- New York 10/23/2014 by Linda Perry Barr (WBAI)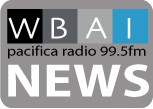 -Andrew Cuomo and Rob Astorino battle each other while Green Candidate Howie Hawkins offers solutions at the New York State Gubernatorial debate last night in Buffalo.
-President Obama applauded Washington Post Editor Ben Bradlee's actions defending Freedom of the Press, even though no other President has pursued as many cases demanding journalists reveal their sources.
-Legendary comedian George Carlin was remembered yesterday. A street where he lived on 121st Street and Morningside was renamed George Carlin Way.