Some of the News for Tuesday October 21, 2014
---
- New York 10/21/2014 by Linda Perry Barr (WBAI)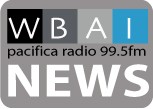 Headlines:
-While mainstream media doggedly reported on rallies against the Metropolitan Opera's production of The Death of Klinghoffer last night on the Upper West Side, what's important to note is what our current Mayor, Bill de Blasio, said regarding the First Amendment.
-New details about 3 year old child beaten to death in Brooklyn homeless shelter. Her brother gave detectives a detailed account of the assault.
-It's been almost two years since Hurricane Sandy hit our area. Homeowners are still waiting for repairs and rebuilding. Public officials and stakeholders gathered at Broad Channel in Queens to speak about progress with the Build it Back program. We hear from Dan Mundy, president of the Broad Channel Civic Association.
-Ydanis Rodriguez, Chair of the City Council's Transportation Committee, spoke out on Monday at a news conference on the City's Vision Zero plan and a new law which reduces the speed limit in the City to 25 mph. The Mayor is expected to sign the bill in the coming days and the new default speed limit will go into effect on November 7th.