Some of the News for Monday October 13, 2014
---
- New York 10/13/2014 by Linda Perry (WBAI)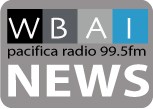 -Nurse tested positive for Ebola in Texas -New Entry Screening at International Airports wouldn't have stopped Ebola victim Thomas Duncan from Liberia, because he had no symptoms whie traveling.
-NYPD Study on Impact of Stops on Community Relations -Ferguson Summit -OWS's Cecily Mc Millan Aquitted from Obstructing Government Administration.
-Bullying at New Jersey School -Governor Cuomo delays decisions on Fracking and Tappan Zee Bridge.