New York City Council says Police Unions, Please Come to the Table...
---
- New York City 09/24/2014 by Linda Perry (WBAI)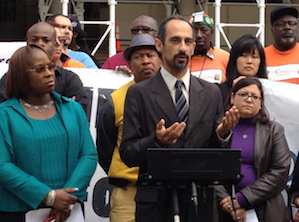 In
Floyd vs. City of New York
, Federal Judge Shira Scheindlin found that stop-and-frisk violated the constitutional rights of people of color. She ordered a remedy process where all stakeholders work with a Federal Monitor to decide on reforms needed.
But that was a year ago and the process is stalled, blocked by police unions. Council Members, Communities United for Police Reform and the Center for Constitutional Rights held a press conference on Wednesday. They want to get the process moving. They say police unions come to the table. Please.