Flood Wall Street
---
- New York City 09/22/2014 by Linda Perry Barr (Timcast)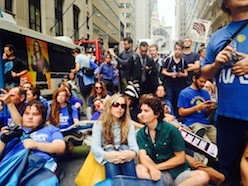 Activists blocked Wall Street on Monday. The sit-in, one day after the Peoples Climate March in New York City, aimed to disrupt business in the financial district. The target was corporate polluters and those profiting from the fossil fuel industry.
Naomi Klein said, "Two years ago, Superstorm Sandy literally flooded New York's financial district but it didn't faze Wall Street and their drive for the short term profits that flow from the cooking of the planet. Which is why we're going to flood them again."
Two inflatable balloons labeled "Carbon" passed from hand to hand, headed towards the statue of the bull on Wall St., before they were destroyed. A protester holds a sign which reads, "There are no jobs in a dead planet." Another says, "Capitalism = climate chaos." The activist protest is part of the lead in to the UN Climate Summit which begins on Tuesday.
The NYPD had 4 arrest teams in place. Two police vans and cops with flex cuffs on their belts were poised. Legal observers watched, so did many with cameras.
Once protesters tried to push past barricades, police used pepper spray. Two were arrested. But basically the NYPD was restrained .
Here's a livestream from Occupy Wall Street activist Tim Poole.