Finally the NYPD Tests Body Cams
---
- New York City 09/05/2014 by Linda Perry (WBAI News)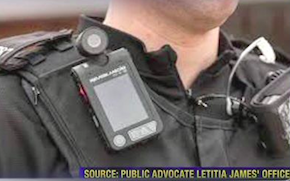 In response to protests in a St. Louis suburb, police officers in Ferguson started wearing body cameras weeks after Missouri police officer Darren Wilson shot and killed 18 year old Michael Brown. And now 60 New York police will begin wearing the devices in a trial run. This after Staten Island man Eric Garner died in an illegal police chokehold.
It was New York City Public Advocate Tish James who trumpeted the body cams after Garner's death. James wants the camera to be used primarily in precincts where there's a high rate of crime and a high rate of police misconduct.
And that's what is going to happen. The pilot program will begin in precincts which had the most stop-and-frisks in 2012 in each of the five boroughs of the city.
During the class action Stop and Frisk Trial, Floyd vs. City of New York, it became clear that there are problems with the way officers filled out the 250s, the forms which recorded the reasons for NYPD stops. Many were filled out improperly or not at all. Body cameras will clear up this mess, and deter unconstitutional stops.
Donna Lieberman of the NYCLU says this could be a win-win for police and for the community, "as long as their use is limited to police interactions and addressing complaints of abuse or wrongdoing."
Mayor Bill de Blasio says the cameras are promising. "But we have to test it carefullly to figure out how well it will work, how we deal with the confidentiality issues and how much we can fund."
To hear more, click the arrow above to listen to Linda's story.