WBAI Local News
---
- New York City 08/27/2014 by Linda Perry (WBAI)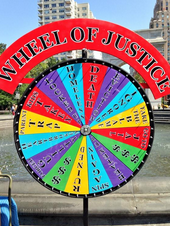 Sidewalk sheds and scaffolds are coming down at NYCHA housing.
Commissioner Bratton dismisses 25% of Civilian Complaint Review Board complaints without NYPD disciplinary action. Mayor de Blasio has his back.
The NYCLU kicks off a Wheel of Fortune style board game, The Wheel of Justice.
Click the arrow above to hear Linda's report.