- New York City 08/26/2014 (AP)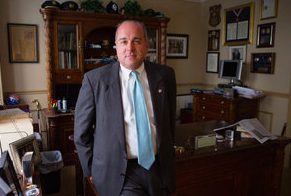 One of New York City's police unions announced its opposition to the city's bid for Brooklyn to host the 2016 Democratic National Convention, saying that crime is on the rise and criticizing Mayor Bill de Blasio's public safety policies.
The Sergeants Benevolent Association, which has 13,000 members, took out a full-page ad in Tuesday's The New York Times saying that the city was "lurching backwards to the bad old days of high crime, danger-infested public spaces, and families that walk our streets worried for their safety."
"Mayor de Blasio has not earned the right to play host to such an important event," read the ad, which was an open letter from union president Edward Mullins to the Democratic National Committee.
The ad denounced de Blasio, a Democrat who took office in January, for providing "a public platform to the loudest of the city's anti-safety agitators." The line was a clear reference to the Rev. Al Sharpton, the fiery civil rights leader who was invited to speak at City Hall after a black Staten Island man was placed in a fatal chokehold by a white New York Police Department officer.
"The NYPD is understaffed, overworked and underpaid," the ad read. "Morale among police officers is low, and there are few signs that it will get better any time soon. Our Mayor cannot be a leader in the fight against crime without supporting his police force."
De Blasio dismissed the ad as a negotiating tool in the union's ongoing contract talks with the city.
"It's clearly an effort to advance their position in terms of their contract talks," said de Blasio before an unrelated Brooklyn news conference. "It's an irresponsible act on their part. It's fear-mongering to try to benefit their own position in contract talks."
De Blasio also disputed the ad's claim that crime was rising in the nation's largest city. Though shootings have ticked up so far in 2014, homicides are down, as is the overall crime rate.
"Negotiate based on the facts," de Blasio said. "Don't try to stoke fear in the city we love."
The police department's top spokesman, Stephen Davis, said in a statement Mullins was entitled to his opinions, which "are not shared by the NYPD."
The head of the city's detectives union supported the letter, though New York's other police unions, including the large Patrolmen's Benevolent Association, which represents rank-and-file officers, did not respond to a request for comment about the ad. A spokesman for the DNC also declined to comment.
A delegation from the DNC toured Brooklyn and its bid's centerpiece venue, the Barclays Center, earlier this month. The other contenders for the convention are Philadelphia, Phoenix, Columbus, Ohio and Birmingham, Alabama.
A decision is expected by early next year. The Republicans have announced that their convention will be in Cleveland.