Show Up at the Voting Booth said the Family of Mike Brown at His Funeral in St. Louis
- St. Louis, Mo. 08/26/2014 by Linda Perry (WBAI)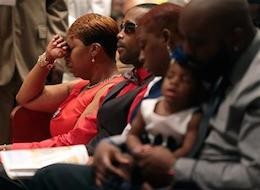 The funeral for Michael Brown was held at the Friendly Temple Missionary Baptist Church in St. Louis on Monday. It's where Brown's relatives said goodbye to the 18-year-old shot and killed by Ferguson, Missouri Police Officer Darren Wilson on August 9th.
"I would be lying if I said I didn't have anger and revenge in my heart" said Brown's uncle, Bernard Ewing.
"But I can't be no fool we got to do it the right way. We got to vote, keep our dollars in our pocket and look after one another."
Mike Brown's cousin Eric Davis, said we've seen senseless acts of killings in the streets.
"We have the family of Trayvon, Jordan Davis and now we have the family of Michael Brown."
Ron Davis is the father of unarmed black teen Jordan Davis, who was fatally shot in Florida two years ago. He was with Oscar Grant's uncle, Cephus Johnson. Grant was shot by a police officer in Oakland, California, on New Year's Day in 2009.
Mike Brown's cousin said it's the youth who stood up to authority in Ferguson.
"We've had enough of this senseless killing and what you guys can do is show up at the voting polls. Let your voices be heard, and let everyone know change must come."
Film director Spike Lee, civil rights leader Rev. Jesse Jackson, children of Dr. Martin Luther King Jr., and Missouri Senator Claire McCaskill were among those in attendance.
Michael Brown's dad called for a day of silence on Monday, a break from the constant protests over the death of the unarmed black youth, shot by a white Ferguson cop.
Meanwhile a grand jury is considering evidence and a federal investigation is underway in the death of Mike Brown.