- New York City 08/19/2014 by Linda Perry (WBAI)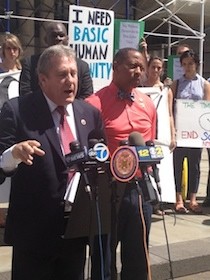 "What I saw there was inhumane!"
That's New York City Council Member Ydanis Rodriguez speaking about injustices he witnessed at Rikers.
At a news conference on the steps of City hall Monday afternoon, New York City Public Advocate Tish James said, "To call a current correctional facility a correctional facility is an oxymoron. There's nothing correct about it and they're not correcting any behavior."
Bronx Councilmember Andy King said, "Today is about making sure people at Rikers get treated humanely, not like dogs, not like someone we would walk past and spit on. We want to make sure these young men get their fair day at trial, and they have a respectful mind, so recidivism doesn't kick in on them."
"Rikers Island is as big of a problem as we're facing with Eric Garner and Mike Brown in Ferguson. It's an issue ready to explode and an issue we must deal with immediately" according to Queens Council Member Danny Dromm. He witnessed problems at Rikers first hand. Dromm said young men, mostly young men of color, sent to Rikers and placed in solitary get one hour of recreation if that, at 4 am.
He is sponsoring Intro 292, a reporting bill to get facts and figures on what's actually happening with solitary at Rikers. He said, "What I saw at Rikers amounts to torture. To place people with mental health issues or substance abuse problems in solitary is nothing short of torture." Dromm expects the bill to pass the Council Thursday.
Glen Martin, prison reform advocate with Just Leadership USA disgruntled with the way New York City's Mayor is dealing with the situation at Rikers says the de Blasio administration has been unresponsive. He said de Blasio campaigned on the tale of two cities, but Martin sees a tale of three cities: rich, poor and inmates at Rikers. He wants to see the prison closed. Jails he said should be decentralized and there needs to be assurance that officers treat people humanely.
According to formerly incarcerated Occupy Wall Street activist and prison reformer Cecily McMillan, things are getting worse at Rikers. With other reformers, she has a sit down meeting with the Corrections Commissioner scheduled for Aug 25th to voice demands.
Click the arrow above to listen to Linda's news report.