WBAI Local News Headlines
---
- New York City 08/13/2014 by Linda Perry (WBAI)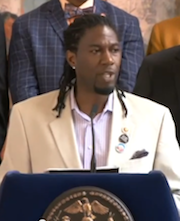 New York City expands its Gun Violence Crisis Management System from 5 to 14 precincts where there is the greatest gun violence. They account for 51% of shootings across the city.
Council Member Jumaane Williams is co-chair of the City Council's gun violence task force. He said what has changed is that gun violence is being treated as a public health crisis.
The NYPD launched Operation Safe Cycle, a two-week ticketing initiative to promote bicycle safety. This runs through Aug. 26.
A New York State delegation led by Governor Andrew Cuomo and leaders of the State Legislature, the Assembly and Senate, and New York Daily News publisher Mort Zuckerman are in Israel --this is billed as a two day show of solidarity with Israel in its conflict with Gaza. But where are the people of Gaza in this equation?
And Lauren Bacall has died. We share a clip from one of her films.