Gaza Protest
---
- New York City 08/01/2014 (AP)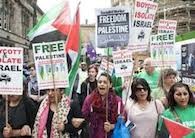 Hundreds of supporters of Palestine marched down a Manhattan avenue before demonstrating in front of an office building that houses the headquarters of Rupert Murdoch's News Corporation.
The protest Friday came hours after a 72-hour humanitarian cease fire broke down in the ongoing conflict between the Israeli military and Hamas militants in the GazaStrip.
About 400 to 500 people marched down Sixth Avenue to 48th Street from Columbus Circle. A small group of pro-Israel demonstrators set up across the street.
Backers of the pro-Palestinian march say they'll be rallying more frequently. In the past they've said they picketed outside the News Corporation building to protest media coverage of the conflict.