Good News! No LIRR Strike
---
- New York 07/17/2014 by Linda Perry (WBAI)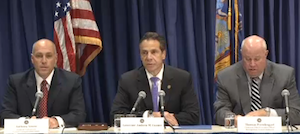 The Long Island Railroad strike has been averted. That's music to the ears of more than 300,000 riders on the nation's largest railroad.
Governor Andrew Cuomo met with the MTA and union officials into the night and through this morning to arrive at a tentative agreement. This afternoon he announced the good news.
Please click the link above to listen.