- New York 06/30/2014 by Linda Perry (WBAI)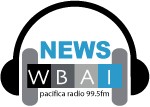 Hobby Lobby Lawsuit
The Supreme Court ruled that some companies with religious objections can opt out of contraceptive health coverage, even though it's a requirement in President Barack Obama's health care overhaul.
The White House is assessing the decision and its implications. It's taking a look at what kind of health care plans the companies involved have and how many women could be affected by the decision.
White House spokesperson Josh Earnest: "The Affordable Care Act insures that women have health coverage for contraceptive care along with other preventative care like vaccines and cancer screenings. We will work with Congress to make sure that any women affected by this decision will still have the same coverage of vital health services as everyone else."
Immigration Reform
President Barack Obama says he is done waiting for House Republicans to act on immigration. He says he now plans to act on his own and take executive action.
"The only thing I can't do is stand by and do nothing while waiting for them to get their act together."
The President argues that there exists sufficient bipartisan support in the House to pass an immigration bill today, but that House Speaker and Republican Majority Leader John Boehner lacks the will to lead House Republicans. He says Boehner informed him last week the House won't vote on immigration this year.
Obama says the thousands of unaccompanied children arriving at the border on a daily basis underscores the need to act quickly on immigration.
National Network To Combat Gun Violence
At City Hall today City Council Member Jumaane Williams launched a National Network To Combat Gun Violence.
"We're trying to deal with local legislatures who are the ones who primarily respond to the gun violence on the ground. The network is to try to enable legislators across the country to share their best practices, to share their lessons, to share policy ideas, programmatic ideas and legislative ideas on how we can combat the gun violence which we know is a pandemic across the country."
Founding members of the National Network to Combat Gun Violence come from more than 20 cities nationwide.
"I think people are hungry to discuss this issue with people across the country and I said at that time we are about safer streets and better policing. And so we're going to do both of We mention the numbers, but there are families behind each of these numbers. There are faces. There are names and we don't always get to that, but there are people who are really suffering." To join the network, or for more information, please email nncgvmessages@gmail.com
Alternate side of the street parking rules
The City Council held a hearing today on easing alternate side of the street parking rules.
The bill sponsored by Council Member Ydanis Rodriguez would let drivers park and leave their cars once street sweepers pass through. This would save time, cut down on double parking and pollution from idling cars.