- New York City 06/27/2014 by Melissa Mark-Viverito (Linda@WBAI.org)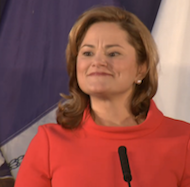 Very late on Wednesday, my colleagues and I voted on the City Council's first budget since I became Speaker. It is a responsible and progressive budget that all New Yorkers can be proud of. We worked hard with the de Blasio administration to achieve some true victories that will resonate in our community.
NYCHA Funding: All NYCHA community and senior centers will be kept open as a result of the budget agreement. Additionally, the Council leveraged funding from the administration to collectively invest $50 million in security upgrades for our developments.
Summer Youth Jobs: The Council negotiated funding for thousands of additional summer jobs for young people across the city.
Gun Violence and Public Safety: The Council increased the size and scope of our anti-gun violence initiative and the NYPD will soon have 200 more police officers on the beat.
Higher Educational Opportunities: The budget includes new funding for a City Council Merit Based Scholarship program for CUNY students.
Expanded Legal Services: The Council invested millions of additional dollars into our city's legal service providers, including for anti-eviction legal services to help tenants stay in their homes and a program to provide legal representation to immigrants facing deportation.
Universal Free Lunch: To reduce the stigma of free lunch in our schools, the Council provided funding for the DOE to launch a universal free lunch pilot in all New York City middle schools starting next school year.
There are also some truly exciting things in this year's budget for our own district:
Upgrades at critical neighborhood institutions and destinations like La Marqueta, El Museo del Barrio, the Hecksher Building, Pregones Theater, the Museum of the City of New York, the Mott Haven Branch Library and St. Mary's Playground West.
Capital support for new additions to our district like the Caribbean Cultural Center, the Bronx Children's Museum, the Edible Schoolyard program at P.S. 7 and the LGBT Health Center at Metropolitan Hospital.
Investments in affordable housing, including two projects in the South Bronx as well as affordable housing for seniors at Draper Hall in El Barrio/East Harlem.
Operating support for a range of organizations that serve youth, seniors, public housing residents, people living with HIV/AIDS, the formerly incarcerated and families in need.
And of course all the great projects you voted on through our district's Participatory Budgeting initiative!
I could not be prouder of this budget and what it means for communities across our city -- especially right here in El Barrio/East Harlem and the South Bronx.
For more details, please visit the City Council's website.
Thank you and have a great weekend!
MMV