WBAI RENT PARTY - SATURDAY, JULY 5TH
---
- The Commons, 388 Atlantic Ave 06/20/2014 by WBAI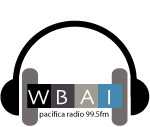 WBAI Rent Party / Resistance in Brooklyn's Annual Anti-July 4th Barbecue
will take place on
SATURDAY, JULY 5, 2014 from 4 to 8 p.m. at The Commons, 388 Atlantic Avenue (between Hoyt & Bond Sts.),Brooklyn.
There will be performances by spiritchild (of the Black Arts Movement) and others.
All proceeds from this event will go to help WBAI pay its rent to The Commons, a movement-building space.
Suggested sliding scale donation: $12-$20 (includes dinner; cash beer bar).
Children under 12 free.
No one turned away.
Join us to help the station, meet like-minded folks, and have a good time!
Sponsored by Resistance in Brooklyn (an anti-imperialist/anti-racist/anti-sexist collective), 718-399-8366, mmmsrnb@igc.org.
By train: Hoyt-Schermerhorn (A, C and G); Bergen Street (F); Atlantic-Pacific (B, M, Q, R, 2, 3, 4 and 5); Flatbush Avenue (LIRR). By bus: B63 and B65.