- 12/30/2014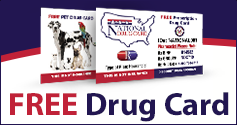 National Drug Card (NDC), a Washington D.C. based organization was created to help people with little or no prescription drug insurance to save money on their prescription drugs. This includes, but is not limited to, senior citizens, on fixed incomes and Medicare; self-employed business-people who have to pay their own medical costs; families; college students; and those who have recently lost their jobs and benefits and may be struggling financially.
Additionally, many people who have prescription benefits use the card to receive discounts on drugs not covered by their prescription plan (e.g. dermatology, elective procedures, weight loss, anti-smoking, and hormone therapy drugs).
The free Discount Prescription Card can save 10% - 85% on all FDA approved brand-name and generic drugs. The card can be used at over 58.000 pharmacies nationwide including: CVS, WALGREENS, RITE-AID, WAL-MART, TARGET, KROGER, K-MART, PUBLIX, SAFEWAY, COSTCO, SAMS and many more including local independent pharmacies and regional chains.
National Drug Card provides the prescription drug card to millions of people across the country to help them reduce their healthcare costs. We hope this money savings card will benefit you, your family and friends.
How does the Free Card work?
Simply present the card to the pharmacist and s/he will enter into your pharmacy profile. Remember, this card is preactivated and can be use right away at your local pharmacy. With this card there are no deductibles or fees, no forms to complete and everyone qualifies (this card covers your entire household). No personal information or SSN# is required. Free Pet and Spanish cards are also available.
Who needs the Free Card?
Those with no insurance
Those who may have insurance but have limitations like high deductibles, non-covered drugs, high copayments or caps on their benefits
Seniors who fall into the "donut hole" of their Medicare Part D
New employees who are in their waiting period for healthcare coverage
Employees who cannot afford COBRA payments when they lose their job
Employees who cannot afford to cover dependents
Millions of people are struggling to afford healthcare. Prescription drugs are a large component of every family's budget. Our goal of helping people across the country save on their prescription medications is a MISSION worth joining.
WBAI will recieve $1.75 from NDC for each prescription or healthcare benefit you particiapte in.
Your WBAi GroupRx app is now available on the the Apple app store. It can be used on any apple mobile device with internet connection.You can download the app at this link. Use your Group ID code: WBAi to activate your app.

The app is only available for apple devices for now, we are working on having it available for Android devices in the near future.
Get a FREE DRUG CARD HERE.