WORLD CUP 2014: WHERE TO WATCH IN NEW YORK CITY
---
- New York, NY 06/11/2014 (eater.com)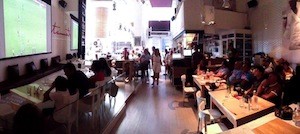 The 20th FIFA World Cup runs for five weeks with the big final match taking place on July 13. There will be 64 games in all with teams representing 32 countries. NYC is flush withWorld Cup fever and you can find the matches playing in bars and restaurants all over town. Here are Eater's top picks for where to watch the tournament and eat well while doing so. For game schedule click the "READ MORE" link below.
Great Britain: ATLANTIC CHIPSHOP- 129 ATLANTIC AVE, BROOKLYN, NY 11201 (718) 855-7775 ChipShop sells some of NYC's most credible fish 'n chips along with other British favorites, such as pies and cornish pasties. The restaurant has 16 beers on tap, including several hand-drawn ales, and the atmosphere is the dog's bollocks. chipshopnyc.com
Austrailia: THE AUSTRALIAN - 20 W 38TH ST, NEW YORK, NY 10018 (212) 869-8601 The Australian will satisfy your cravings for kangaroo loin and burgers topped with beets, eggs, and pineapple slices. The bar has 20 large screen flat panels to catch the matches. theaustraliannyc.com
Brazil: BARBOSSA- 232 ELIZABETH ST, NEW YORK, NY 10012 (212) 625-2340 Head down to Soho favorite Barbossa for a taste of the cuisine and hospitality of World Cup host country Brazil. We recommend the stews here — either the Portuguese seafood stew (stocked with calamari, shrimp, and mussel), or the feijoada, a hearty pork stew.
Italy: BIRRERIA AT EATALY - 200 5TH AVE, NEW YORK, NY 10010(212) 229-2560. There will be televisions set up specially for World Cup matches at Birreria, the rooftop bar and brewery perched above Eataly. Pro tip: Bring four friends and get the piatto misto, which includes a selection of house made sausages and a hunk of pork shoulder.
Germany: THE BUTTERFLY - 225 W BROADWAY, NEW YORK, NY 10013 (646) 692-4943. Michael White and Eban Freeman's Tribeca "supper club" might look all Mid-Century, but a secret pull-out flat screen will bring you this year's World Cup. Snack on bratwurst sliders or a dry-aged patty melt while imbibing one of Freeman's renowned cocktails. http://thebutterflynyc.com
Italy: DON ANTONIO BY STARITA - 309 W 50TH ST, NEW YORK, NY 10019 (646) 719-1043.Don Antonio by Starita offers some of the city's most authentic Neapolitan style pizza. During the tournament, the restaurant is offering "commemorative" World Cup pizzas and cocktails. http://donantoniopizza.com
U.S.: HOMETOWN BAR-B-QUE - 454 VAN BRUNT ST, BROOKLYN, NY 11231 (347) 294-4644.With several large projection screens, a full bar, and some if the city's best barbecue, Hometown Bar-B-Que is the ideal place to root for the US team. http://www.hometownbarbque.com
Belgium: THE CANNIBAL HELL'S KITCHEN - 600 11TH AVENUE, NEW YORK, NY 10036 (212) 582-7947. The Cannibal's extensive beer list, bar snacks and charcuterie program make it an ideal destination to watch the matches. Don't miss the "Cannibal dogs 2.0" served "tiger style" with spicy tripe chili, and Chinese mustard. Most World Cup matches will be screened on Gotham West's big movie walls.http://thecannibalnyc.com
Ireland: DONOVAN'S PUB- 57-24 ROOSEVELT AVE., WOODSIDE, NY 11377 (718) 429-9339. Donovan's Pub is about as classic an Irish pub as you will find in NYC. The bar serves one of NYC's quintessential hamburgers — it's a flame broiled pub style burger served with chunky fried potatoes. http://donovansny.com
Brazil + Italy : RIBALTA- 48 E 12TH ST., NEW YORK, NY 10003 (212) 777-7781. Ribalta will be celebrating the World Cup by hosting a kick-off party replete with Brazilian DJs and carnival dancers. The restaurant will be offering special pizzas during the tournament, such as one topped with yuca fritas in honor of host country Brazil. http://www.ribaltapizzarestaurant.com
Germany: ZUM SCHNEIDER- 107 AVENUE C, NEW YORK, NY 10009 (212) 598-1098. Snack on pretzels, schnitzel, and bratwurst while quaffing on a crisp wheat ale, all in a fittingly Germanic environment. http://www.zumschneider.com