- New York, NY 06/10/2014 by WBAI (Radio Bloomsday)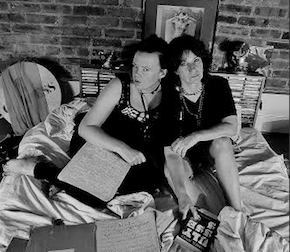 Back by popular demand, the innovative performance of the complete Molly Bloom monologue from James Joyce's Ulysses recorded live on June 16, 2013 by not one but two actresses, Caraid OBrien and Bernadette Quigley, will be rebroadcast nationwide on Monday, June 16, 2014.
Tune in to Radio Bloomsday or stream at wbai.org beginning at 7pm until the wee hours of the morning. Each year, Radio Bloomsday ends its 7 hour nationwide broadcast of James Joyce's Ulysses with the novel's final celebrated chapter – a two and a half hour passion filled monologue, by the novel's heroine, Molly Bloom. For the second year the re-imagined monologue will be presented as a conversation that Molly has with her younger self, with every word still faithful to the text of one of the most celebrated chapters in literature ever. The Molly duo begins at 11.
The Molly Bloom soliloquy is also the most sexually explicit chapter in Ulysses and the reason why the book is so frequently censored. Molly, a soprano, has spent the day in bed with her lover Blazes Boylan while her husband, Leopold Bloom wanders around Dublin. Throughout the two and a half hour episode, a flood of memories is unleashed as the two Mollys spend the night together, attempting to unravel the mysteries of their art, their lovers and their lives. Despite all the men that have crossed Molly's path, she is her own most faithful companion.

Ms. O'Brien says, "From the moment I first read Molly Bloom's monologue on my bed in Mount Scopus in Jerusalem where I was studying Yiddish literature, that episode became the road map for my own artistic experience. Like Molly, I fantasize about a time of endless financial resources, when I have an limitless supply of costumes to wear onstage, and can throw a handful of tea in the pot without scrimping to make it last as long as possible. Like Molly, I am a performer who spends more time in bed than I do on stage."
Earlier in the evening, from 7:00 p.m. on, WBAI's Radio Bloomsday's broadcast includes a kaleidoscope of global artistic talent united by a passion for getting under the hood of the most influential novel of the twentieth century - James Joyce's Ulysses. Commemorating Father's Day, the broadcast explores the often complicated relationship between fathers and their children as portrayed in Ulysses.
This year's performers ranging in age from 5 to 85 years of age include Alec Baldwin, Aaron Beall, Mannix Beall-O'Brien, Marie-Louise Bowe, Justin Vivian Bond, Charles Busch, Janet Coleman, Frank Delaney, Paul Dooley, Roma Downey, David Dozer, Anne Enright, Jim Fletcher, Garrison Keillor, Michael Laurence, John Lithgow, Marc Maron, Nick McDonell, Paul Muldoon, Felix Norris-Lindsay, John O'Callaghan, Bob Odenkirk, Wallace Shawn, Marc Singer, T. Ryder Smith, Jerry Stiller, Tarab, Kate Valk, Heather Woodbury, Fiona Walsh, Zeroboy and many others. Musicians appearing on the broadcast include Australian performers Roger Norris, Graeme Norris and Susannah Norris-Lindsay, All Ireland button accordion champion, Martin O'Connell, fiddle player Marie-Louise Bowe, singer Eileen Ruby, Steven Antonelli, Ralph Martin, Johnny Coughlan, and Brad Maestas.
BIO's:
Born in Galway, Ireland, Caraid O'Brien is a writer, performer and director. She is the director of Radio Bloomsday, an annual marathon radio performance of James Joyce's Ulysses featuring over 100 performers on WBAI. Her direction of Bloomsday on Broadway for Symphony Space is available on CD starring Stephen Colbert. Caraid graduated summa cum laude, phi beta kappa with a BA in Yiddish literature from Boston University, studied Yiddish and Hebrew at the Hebrew University of Jerusalem and Irish (Gaelic) at the National University of Ireland.
Bernadette Quigley has performed the Molly Bloom soliloquy live at Symphony Space. Her many film and t.v. credits include The Suspect, Dream House starring Daniel Craig, The House Is Burning, Jim Sheridan's Oscar-nominated In America, Law & Order, Law & Order: SVU, Third Watch, Kings and most recently, Unforgettable. Quigley has also performed on and off-Broadway and extensively in regional theaters across the U.S.