- New York City 05/30/2014 (WBAI)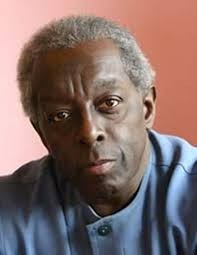 Saturday May 31st, the last day of African Liberation Month, is the day of Elombe Brath's Homegoing Services.
The hero will be honored in Harlem, beginning with a "Morning Walk Through Harlem Retracing Our Brother's History." Organized by the December 12th Movement, Patrice Lumumba Coalition, Committee to Honor Black Heroes and others, people are asked to assemble at 8am in front of the Adam Clayton Powell Jr. Office Building.
Services are from 10am to 1pm at the Abysinian Baptist Church where the Reverend Dr. Calvin O. Butts is pastor. Many will accompany the family to the Woodlawn Cemetery.
A repast follows at the Harriet Tubman School where Elombe Brath held monthly meetings, updating the community on current affairs and issues under-reported by the media.
The online Community Progressive Radio will broadcast a recording of the memorial on Monday, June 2 at 9 AM, 3 PM, 9 PM and 3 AM Tuesday.

During the course of the weekend, CPRMetro will air the May 2013 Tribute to Elbome Brath (2-1/2 hours) several times each day. Exact times will be posted on their website by Saturday, May 31 at 9 AM.
—WBAI's national board passed a resolution honoring the contributions of Elombe Brath:
Resolution of the PACIFICA FOUNDATION RADIO - PACIFICA NATIONAL BOARD
Honoring Elombe Brath
Whereas, the Pacifica National Board acknowledges the passing of our esteemed elder, international traveler and scholar, Elombe Brath, on what would have been Malcolm's 89th birthday, and wish to celebrate his life and work;
Whereas, Elombe Brath was the founder of the Patrice Lumumba Coalition, co-founder of AJASS – the African Jazz Arts Society & Studio; an early advocate for the wrongfully-convicted Central Park Five; and deeply involved in many local issues; and
Whereas, Elombe Brath possessed knowledge of and insight into world affairs and shared his subtle analysis of historic events and their impact on current situations with tens of thousands of WBAI and Pacifica listeners for decades; and,
Whereas, Elombe Brath loved and served the African Diaspora, celebrating its arts, cultures, challenges, and triumphs, and its contributions to other civilizations; and he was known to many heads of state in Africa and the Caribbean;
NOW, THEREFORE, BE IT RESOLVED, that the Pacifica National Board declares its appreciation and recognition of the many sacrifices that Elombe and those who loved him made in furtherance of the struggle for dignity and justice for the people.
Passed unanimously by the Pacifica National Board on May 22, 2014.