Cuomo Claims Progressive Mantle, But Questions Linger
---
- New York 05/23/2014 by Linda Perry (WBAI)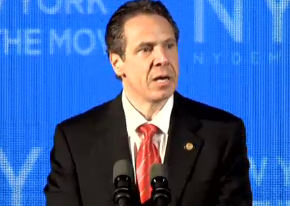 Governor Andrew Cuomo accepted the Democratic Party's nomination for Governor at the New York State Democratic Convention on Long Island Thursday.
Cuomo has a $33 million war chest raised primarily from the 1 percent. 99 percent of the funds came in large donations, while only 1 percent came in small donations. He faces Republican Rob Astorino who raised $1 million so far.
"This election is about a choice, because elections are about making a choice. But this choice is not really about two people. It's not even about two parties. It's not even just about New York. It's not even just about government. This is a choice about how we see society."
Cuomo touted what he said are his progressive credentials and his efforts to boost the economy. He boasted about lowering taxes for corporations. Had they not been lowered, funds in the state coffers would have been available to provide more for the neediest.
"We believe that there is a cord that connects me to you to you to you, and that cord weaves a fabric, and that is a fabric of society and when one is raised, we are all raised."
Cuomo bragged about his efforts to end gridlock in Albany.
He praised the minimum wage increase to $8.00 an hour and $9.00 by 2015, but if there was not as much gridlock in Albany, the stronger minimum wage bill passed by the Democratic assembly would have been enacted. The group of 5 breakaway Democrats in the State Senate caucused with the Republicans watering down the bill. It's this split that some say Cuomo likes. It leaves him in an unchallenged role as the main power in Albany.