#Justice4Cecily City Hall Rally
---
- New York 05/15/2014 by LInda Perry (WBAI)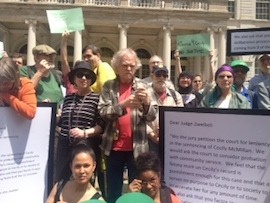 "We stand for Justice. We know what it looks like....
Elected officials gathered with supporters of Occupy Wall Street activist Cecily McMillan at City Hall. She was convicted of assaulting a NYPD officer at Zuccotti Park as police were clearing the park.
This was back on the evening of March 12, 2014. Police officer Grantley Bovell grabbed McMillan's breast from behind. She instinctively threw back her arm. One of her elbows hit the cop in the face.
For that McMillan is now facing 2 to 7 years in prison. Her sentencing date is May 19th.
This is what has people outraged. A young woman who had visible injury from being grabbed from behind and who defends herself ends up on trial and is now in jail at Rikers, awaiting sentencing.
Supporters at City Hall carried signs meant for the judge to see. One read, "Leniency for Cecily." Another said, "Justice for Cecily, No Jail Time."
"The hallmark of a great nation is leniency" read a sign carried by a member of 1180 New York administrative employees.
"Have Mercy" was printed on a large green heart.
Give a listen.