- New York 05/12/2014 (WBAI)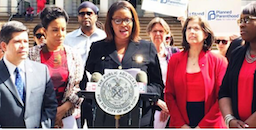 Public Advocate Letitia James was joined by a coalition of elected officials, women's advocacy groups, and student activists at City Hall to announce several measures intended to address the growing epidemic of sexual assaults on college campuses.
The White House Sexual Assault Task Force recently outlined a disturbing trend of colleges and universities throughout the county not doing enough to prevent, investigate and report incidents of sexual assault. Only slightly more than half of sexual assaults that occur on college campuses are reported and, even when they are reported, some schools fail to properly investigate complaints.
In an effort to address these issues, Public Advocate Letitia James announced the New York City Campus Safety Act to ensure that all students – female, male, cisgender, or transgender – have protections, services, and support at their campuses. The new legislation will:
· Require colleges to coordinate response to on-campus sex crimes with a local rape crisis center;
· Establish a new NYPD Liaison and multi-agency taskforce of leadership from the Department of Health and Mental Hygiene, Department of Education, New York City Police Department, Mayor's Office to Combat Domestic Violence and leading student and community advocates to serve as an interface with colleges and universities to strengthen sexual assault prevention programs;
· Increase transparency by requiring colleges and universities to report sex crimes statistics to the public on a monthly basis;
· Increase funding for rape crisis centers and prevention education around New York City; and
· Hold an oversight hearing to examine best practices for preventing and addressing sexual assault on campuses.
"New York City is the college capital of our region; we have more college students than the entire population of Boston," said New York City Public Advocate Letitia James. "One-in-five college women is a victim of rape, and it's time we realize our responsibility to protect our city's students. These proposals represent real steps that will educate students about sexual assault, hold colleges accountable, increase support for victims, and better protect our students from sexual assault."
"The rate of violence against women must be addressed through partnerships with the NYPD and community organizations, in order for us to ensure that our academic institutions will remain a safe, learning environment for all students," said Council Member Laurie A. Cumbo, Chair of the City Council Committee on Women's Issues. "I commend the leadership of Public Advocate Letitia James who will introduce legislation that will implement new measures to increase reporting, coordinate prevention, and support victims. I look forward to co-sponsoring these bills in support."
"Most New Yorkers would be shocked to learn the extent to which women throughout the country – and even here in our own City – are faced with the threat of sexual violence as they seek to pursue a college education. As recently as May 1st, the Center for Public Integrity said that CUNY's own Hunter College was being investigated by the federal Department of Education's Office of Civil Rights for its handling of sexual assault cases. This is an ongoing crisis in our colleges affecting thousands of young women every year and clearly there is more that needs to be done to protect our college students," said Council Member Vanessa Gibson, Chair, of the City Council Committee on Public Safety
"Between 20 and 25% of women on college campuses are raped or sexually assaulted over the course of their time on campus. This is a profoundly disturbing statistic. I am heartened to see more attention and resources go to this issue. I applaud the Public Advocate for taking this issue seriously and calling for concrete improvements in assistance for students who suffer sexual violence," said Mary Haviland, Executive Director of the New York City Alliance for Against Sexual Assault
"Our mission at the Center Against Domestic Violence is to end violence in our communities. We stand with the with Hon. Letitia James and the Office of the Public Advocate in their efforts to actively reduce sexual assault on NYC campuses," said Judith Kahan, CEO of the Center Against Domestic Violence
"The survivor-led movement to take on campus sexual assault is impacting university action across the country. The vast majority of perpetrators receive ridiculous punishments like suspensions from sports or a required apology letter. This is the very definition of not taking rape seriously, and by uniting with students and survivors we can all take responsibility to change this," said Sonia Ossorio, President of the National Organization for Women (NYC)
"It is very troubling to see that sexual assaults are on the rise at college campuses, and this disturbing trend cannot be allowed to continue. The reforms outlined this morning are critical in the efforts to reduce this epidemic that threatens the safety and well-being of women who are students and faculty members of college campuses and universities across America," said Council Member Mathieu Eugene, Chair of the Council's Committee on Youth Services
"As a mother of two young women in college, I'm grateful to Public Advocate James for proposing these reforms," sSaid Councilwoman Helen Rosenthal, Chair of the Council's Committee on Contracts., "Under NO circumstance is rape okay. Young women and men on college campuses deserve the protections and assistance that are recommended here. I fully support the proposed legislation and look forward to helping to pass these into law," said Council Member Helen Rosenthal
"If we want to stop sexual assaults from occurring on college campuses we must take an all-encompassing approach which includes better educating students on sexual violence prevention, encouraging bystander intervention and teaching students how to be compliant with the law when an incident does occur. College campuses must be committed to maintaining an environment free from sexual harassment and sexual assault," said Deputy Majority Leader Council Member Vincent Gentile
"This disturbing tending of sexual assaults going around in our college campus is alarming to our student population. Thanks to the leadership of Public Advocate Letitia James, the NYC Campus Safety Act is a step in the right direction in establishing a safe haven for victims to get the services and help they need," said Council Member Inez E. Dickens. "It will equip our campuses with the expert care and resources to improve prevention education, training and response to handle sexual assaults," said Council Member Inez Dickens
"Sexual assault has no place on a college campus or anywhere else," said Council Member Ben Kallos, Chair of the Council's Governmental Operations Committee. "College campuses have a responsibility to protect all of their students from sexual assault, to encourage reporting and provide support for victims, so that everyone can focus on learning. Having faced these issues as a Judicial Affairs officer at SUNY Buffalo, I commend the Public Advocate for her initiative to expand such programs throughout our City."