Pussy Riot visits Cecily McMillan at Rikers
---
- New York 05/09/2014 (Sparrow Media)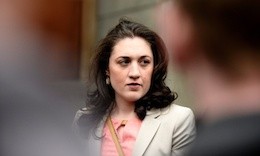 Nadya Tolokonnikova and Masha Alyokhina of Pussy Riot / Zona Prava visited New York's Rikers Island to meet with jailed Occupy protestor Cecily McMillan.
Since their incarceration in Russian for their own political protests Pussy Riot has been outspoken in showing solidarity to political prisoners around the world. That's why they went to Rikers, to show solidarity with Cecily and learn more about what she experienced.
Cecily, who was beaten by the NYPD on March 17, 2012, was convicted of assaulting a police officer on May 5, 2014. She was immediately remanded to the New York Department of Corrections until her sentencing hearing on May 19, 2014.
Since her imprisonment, Cecily McMillan has seen a groundswell of thousands of supporters calling for her release via a Change.org petition. Cecily's supporters have also included several unexpected shows of solidarity. On Thursday May 8, 2014, nine of the twelve jurors that convicted McMillan signed letters to Judge Zweibel requesting he show Cecily leniency at sentencing.
New York City elected officials are also expected to hold a press conference at City Hall on Monday May 12, 2014 at 12pm to ask for leniency for Cecily.