WBAI News for Friday April 18, 2014
---
- New York 04/18/2014 by Linda Perry (WBAI)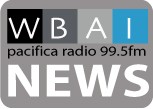 Agreement to reduce tension between Ukraine and Russia.
NYC federal Judge Sheindlin gave new lease on life to suit against Ford and IBM. It accuses them of supporting apartheid by letting their susidiaries sell cars and computers to the South African government.
TWU local 100 and Transit officials reach a tentative contract deal.
Mayor Bill de Blasio unveils a report on Sandy recovery process.
Obits: Basil Patterson one of New York's most influential politicians has died.
Cheo Feliciano,the Salsa great, died in a car accident in Puerto Rico.
WBAI mourns the loss of longime host and investigative reporter, Robert Knight.