- 04/17/2014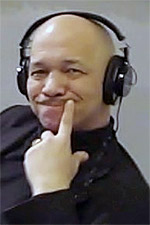 It is with profound sorrow that we announce the death of
Robert Knight
, Senior Correspondent, Investigative Reporter, Host and Producer of Earthwatch and the Five O'Clock Shadow on WBAI, Pacifica Radio in New York on Wednesday, 16 April 2014, in the Bronx. He succumbed to complications following treatment for an illness.
Robert Knight was the anchor of the daily "Five O'Clock Shadow" investigative newsmagazine, and host of the weekly free-form radio series "Earthwatch: Transterrestrial Radio with Robert Knight"on New York Pacifica station WBAI-FM. He was a former correspondent for Comedy Central's "The Daily Show", the Public News Service, where his reports have been heard on hundreds of public, commercial and community radio stations. He anchored Pacifica's nationally syndicated investigative news program "Flashpoints," its national election series "Informed Dissent" and Pacifica Radio's live bicoastal coverage of President Obama's Afghanistan War speech at West Point. He was also a regular WBAI News contributor and occasional host of "Wake Up Call".
Most recently, Knight produced the two-hour investigative historical documentary, "The Sweet Science of Racism in Haiti," one of WBAI's most popular locally-produced public affairs premiums.
Along with Dennis Bernstein, Knight was a cofounder of the groundbreaking investigative news series "Contragate" (later renamed "Undercurrents") – which provided daily exposés of the clandestine and military operations surrounding the wars in Central America and elsewhere. He also served as WBAI's News Director, "Wake Up Call" morning show host, and as a successful fundraising copywriter for the station. Knight served as a correspondent for Pacifica National News, Free Speech Radio and National Public Radio, and been broadcast on WNYC, WLIB, KPFA, WEVD, WABC, WAMC, and WMCA, among other stations.
As an international correspondent, Knight traveled to five continents, reporting from such hot spots as Nicaragua (where he covered the contra war), Colombia (where he reported to the international drug complex), Libya (where he visited the home of Muammar Khadafy), North and South Korea (where he covered nuclear and reunification issues), and Panama – where his interviews with Manuel Noriega and coverage of the 1989 US invasion earned him the prestigious George R. Polk Award.
In addition to the Polk Award, Knight's work also won the Jesse Meriton White Award for International Reporting, the Ethical Culture 'Man of the Year' Peace Award, the "Madre Padre" Award (presented to "a few good men" by MADRE, the international feminist human rights organization), the Humanist Journalism Award (presented by the Rev. Joseph Ben-David, a colleague of Hannah Arendt), the News Reporting Award presented by Asian-Americans for Equality, and the National Association of Black Journalists' Radio Reporting Award for his documentary series on covert activities in apartheid South Africa.
Knight's domestic reportage includes travels to Tulia, Texas, where he covered the false arrests of most of the town's African American population on fabricated drug charges, and to Albany, New York, where his reporting contributed to reform of the draconian Rockefeller Drug Laws.
Knight also made television appearances, including "Like It Is", with Gil Noble and "Tony Brown's Journal." and news anchoring on "International News Net". He hosted a televised town hall discussion with the Rev. Al Sharpton at the Schomberg Center for Research into African Culture. He was also interviewed by Harold Channer on "Conversations with Harold H. Channer"
His writing has been published in Esquire, Essence, New York Magazine, SPY, SPIN, Newsday. The New York Daily News, Los Angeles Times, Washington Post, Baltimore Sun, The Guardian, and the Premiere Edition of Civil Rights Journal, published by the U.S. Commission on Civil Rights – among others.
He will be greatly missed.
Send your comments, stories, photos and tributes to theknightreport@gmail.com.