- New York 03/14/2014 by Linda Perry (WBAI)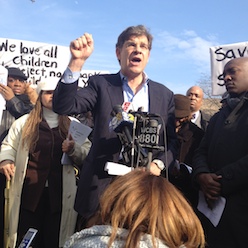 The New York State Senate passed a resolution which would provide $540 million a year for five years to fund pre-k and after school for middle schoolers in New York City. But the plan comes with strings attached. It would take control away from Mayor de Blasio to approve or deny charter co-locations in public school buildings and give charter schools decision-making authority over classroom space in buildings they currently co-occupy.
According to the plan, the Mayor would need to reverse his decision to deny three of Eva Moskowitz's Success Academy co-locations. However this is unlikely. De Blasio said repeatedly that he is not against charter schools, but he is against co-locations which could negatively affect the greater public school population.
A case in point is a public school building at 117th Street between Lenox and Fifth Ave. That's where two public schools PS149, PS/MS811 and one charter Success Academy already share one building. 811 also known as the Mickey Mantle school is a special education school serving severely disabled students, up to age 14. Mayor de Blasio and Schools Chancellor Carmen Fariña decided this school building could not accommodate another charter school, that it would adversely affect children with special needs by taking away space and force children who can't sit still to be bussed far from home. In the building some students eat lunch at 9:30 am because of over-crowding.
Some lawmakers in Albany didn't get this message. They are getting a different one from Moskowitz and the charter school lobby.
Shino Tanikawa, Manhattan Public School Parent and President of Community Education Council District 2* said, "It is deeply disturbing to see such clear evidence of corruption in which charter operators with money dictate to Senators how they should be given everything they want while only serving a small proportion of students."
Charter schools only serve 5% of the public school population. Eva Moskowitz's Success Academies which have been lobbying and advertising and getting NYS Senators behind her schools, serve only 6,700 out of more than 1.1 million NYC students. That's less than 1% of public school students.
Leonie Haimson, Executive Director, Class Size Matters said, "Thousands of public school students are put on waiting lists for Kindergarten each year, thousands more sit in trailers, and hundreds of thousands are sitting in overcrowded schools, yet this proposal would force NYC to give charter schools free space or pay for the construction of their schools --over the rights of public school students."
The Senate resolution has public school parent leaders up in arms.
Noah E. Gotbaum, Manhattan Public School Parent, Vice President, Community Education Council District 3* said: "Public school parents beware! This Senate Resolution steals control of our public schools from elected Mayors and school boards, and hands it to hedge fund managers and charter school lobbyists."
NYC's former mayor joined the fray. In his first major interview since leaving office, Mike Bloomberg goes back on record defending charters. He said, "People forget charter schools are public schools."
Mona Davids, Bronx Public School Parent and President of the New York City Parents Union said charter schools are not public schools, they are non-profit education corporations governed by private boards. "Charter schools according to Eva Moskowitz are not accountable to the public or may be audited by the State Comptroller because they are not state units like public schools. Siphoning money from public schools that serve all students, unlike charter schools, is clearly quid pro-quo for campaign contributions. We call on the Attorney General to investigate the bribes sent to Governnor Cuomo, Senator Skelos and Senator Klein through the charter lobby's many Political Action Committees and board members."
Sam Pirozzolo, Staten Island Public School Parent, President of Community Education Council 31* said Governor Cuomo and the State Legislature are listening to the dollars of the powerful charter school lobby. "New York City public school parents have been walloped by two events yesterday. First was the introduction of the legislation mentioned above and second was the victory given to Eva Moskowitz and her lucrative string of charter schools known as Succe$$ Academy Charter School$ when Manhattan Supreme Court Justice Thomas Breslin ruled state Comptroller Thomas DiNapoli did not have the authority to audit any New York charter because the schools are not technically "units of the state." How is it possible that charter schools cannot be held accountable? The New York City Council wants to see the books, they are concerned about corruption."
Pirozzolo asks what this mean for hardworking tax paying New York City public school parents? "It means that we have been side stepped, overruled and ignored once again. The path has been cleared to give choice to only a select few while the remaining neighborhood schools become filled with the outcasts of charter school children who couldn't "make the grade" and are being returned into an already struggling public school system which has now been assured a straight and direct path to failure."