WBAI Morning News for Friday February 28, 2014
---
- New York City 02/28/2014 by Linda Perry (WBAI)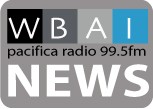 Bundle up for extreme cold in our listening area.
Dangerous confrontation with Russia is taking place in the Ukraine.
U.N. Secretary-General Ban Ki-moon says 20 years after the Rwanda genocide, the international community's failure to prevent atrocities in Syria is "a shameful indictment."
President Obama anounced My Brother's Keeper, an Initiative to lift young men of color and improve conditions that keep them impoverished and imprisoned in disproportionate numbers.
Charter schools are being blocked from using space in public school buildings by de Blasio adminisration. Only 5% of public school students attend charter schools.
New protocols are being implemented by the NYC Mayor and Police Commissioner to dial back tensions between the NYPD and the communities it polices.