- New York City 02/28/2014 by Linda Perry (WBAI)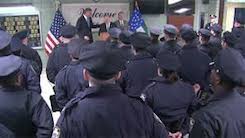 Mayor Bill de Blasio and NYPD Commissioner Bill Bratton attended a roll call at the 2-5 precinct in East Harlem. In an effort to dial back tensions between the NYPD and the communities, they announced changes to the police academy curriculum. De blasio said they are stressing seven steps to positive community interactions.
"These are things a lot of officers already know and practice every day, but we want to make them the norm.
Step one is whenever possible – whenever it makes sense – the officer politely introduces himself and provides name and rank.
Step two is to actively listen and attentively listen to the people they're encountering.
Step three is to keep an open mind about the information they're receiving.
Step four is to be patient with the people they are serving. Again, we're talking about every kind of circumstance. And we know there's a difference between an urgent and an emergency circumstance and an everyday encounter. We believe it's so important for our officers to have the opportunity to hear deeply what people are telling them, including if they happen to come from a different background, a different culture, have a different first language.
Step five is to know the resources the NYPD – and other agencies – that would be available to help people with their problems.
Step six is to make every reasonable effort to address the needs of the people that have asked for help.
And step seven is to make sure every encounter, whenever possible, ends on a positive note so people know that they have been served with that respect."
The new protocol is aimed at repairing the rift between the police and the community caused by the practice of stop and frisk. The changes according to the Mayor and the Police Commissioner will foster new and deeper trust between the police and community, just what those who rallied for police reform were after when Bloomberg was mayor.