- New York City 02/14/2014 (WBAI)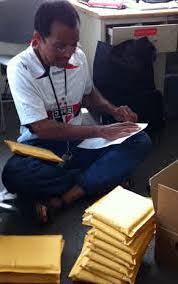 Hello listeners, this is Berthold Reimers, General Manager of your station. I am reporting on the situation at WBAI. There are lots of rumors afloat, and many people are understandably confused about what's true and what's not.
The first thing that needs to be clarified is the question of the LMAs, or Lease Management Agreements by which WBAI would be handed over to an outside programmer. On Sunday, our former Program Director told a reporter that if the situation were not turned around in "just a couple days," Pacifica would sell the license for the station or lease its airwaves." That is absolutely not true. In fact, the Pacifica National Board this past weekend voted to put off any consideration of LMAs for 60 days in order to give WBAI time to work out a realistic alternative.
Second, it has been repeated on air numerous times these past two weeks that we could not offer premiums, because we could not afford to buy them. The former Program Director also told a reporter this week that the reason we had to conduct a fund-drive without premiums is that we have none. That is not true. WBAI and Pacifica have a deep reservoir of fabulous programs on CD. We also have a substantial inventory of books and DVDs. And starting next week we will return to pitching premiums. Even NPR does not conduct fund-drives without premiums.
Members of the WBAI community don't agree about much, but there is ONE THING we all agree on: everybody wants to move away from so much on-air fundraising. Diversifying revenue streams is a high priority, and there is a team working on a plan to increase the share of funds raised online, in the community, and via traditional non-profit strategies. The plan includes a carefully timed transition, steadily reducing on-air fund-drives as the new revenue sources emerge and stabilize. It isjust common sense that we cannot jettison overnight a method that has kept us alivefor the past 60 years. And that is what we did this month. It was a big mistake.
In fact, we are now in much bigger trouble than we were two weeks ago. As most of you are aware, neither WBAI nor Pacifica has a cash reserve. Pacifica can no longer bail us out when we are short of cash. So we need to raise money fast.
The good news is that with a successful fund-drive, we can definitely break even during the current quarter. Our monthly expenses are down to about $125,000, half what they were a year ago. In fact we nearly broke even during the last three months of 2013 in terms of operating expenses. But we still had debt: for120 Wall Street, moving expenses, and we had to pay back money we had borrowed from WPFW.
We have left only one significant external debt, and that is the severance pay. It is a big problem because even if we dedicate the entire Corporation for Public Broadcasting grant to it, we still need an additional $90,000 to pay the full severance.
But think about it: IF this fund-drive is successful, we may for the first time in a long time make it through a quarter without depending on Pacifica to bail us out. AND we will have no external debt! Of course we need to do much more than break even. But breaking even is important: it will stabilize us and give all of us new hope.
The last two weeks have set us back, and we need to catch up quickly. But we have the possibility, with this fund-drive, of turning a corner. After a very long fifteen months since Superstorm Sandy, we are close to getting back on an even keel. BUT ONLY IF THIS FUND-DRIVE IS SUCCESSFUL.
You the listeners are the ones who have made it possible for WBAI to survive all the turmoil over these past fifteen months:
· losing our offices and studio;
· moving to new locations;
· producing radio with makeshift studios;
· trying out several new program directors.
It has been one helluva year. But all along, we have been getting closer to financial stability AND deeper community.
The Community Advisory Board has been working for months on a plan to diversify revenue streams and will be implementing it in the coming weeks. We have more volunteers taking up the slack, dedicating countless hours to getting out premiums faster than ever before. And we are creating new partnerships and alliances. For example, we are working on an arrangement with the Brecht Forum where we will record some of their outstanding programs to share with our listeners.
We CAN turn a corner if you the listeners will stand by us once again. Our expenses are much more realistic now, but our position is still precarious. Please, we have come a long way, but we still must get over this final hurdle.

Berthold Reimers
General Manager
WBAI 99.5 FM Radio