Pre-K Stalemate
---
- New York 02/11/2014 by Linda Perry (WBAI)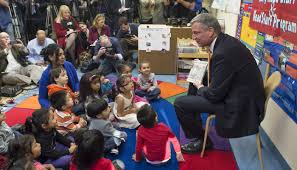 State Senate Republican Leader Dean Skelos said on Monday that he won't allow a vote on Mayor Bill de Blasio's plan for funding pre-k and afterschool for middle schoolers.
The Mayor clearly miffed fired back this morning. He said it's one thing if there's an alternative vision, but not allowing a vote is unacceptable.
"I think everyone should speak out and say that this is a matter of democracy, and that we have to have a vote on this. You know, we don't have a secret ballot when it comes to our legislators. Their job is to stand and be counted. You want to be against the interests of children and families? Stand up and say it. If you think it's unfair to ask millionaires to pay a little more so we can strengthen our future? Stand up and say it, be my guest. But you can't hide. There has to be a vote. And I would hope that everyone would speak out in favor of democracy."
Skelos said taxing those who earn $500,000 in the city to pay for the plan would negatively affect the entire state. "The last thing we need is to see high earners leave New York state because then we lose their tax dollars." He said, "I think the governor has clearly indicated that you don't have to raise taxes in New York City."
De Blasio said Cuomo's plan for funding Pre-K statewide without a tax hike won't provide the needed funds.
"State Education Commissioner John King very openly, very candidly said if you actually want to do full-day pre-K statewide – that's $1.6 billion a year. The plan the governor put forward was $1.5 billion over multiple years – doesn't cover what we need."
The Mayor plans to go to Albany soon.