- New York City 02/10/2014 by Linda Perry (WBAI)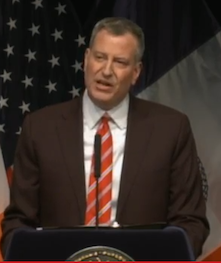 Under a banner which read One New York Rising Together at LaGuardia Community College in Queens, Bill de Blasio, New York City's 109th Mayor, delivered his first State of the City Address.
He said the city is in the midst of an unprecedented budgetary challenge with gridlock in Washington, unanswered questions in Albany and over 150 unresolved municipal labor contracts. The city is on an uncharted path, but one that is progressive and fiscally responsible, de Blasio said. He signaled a major policy shift from the Bloomberg administration.
"We will forgo big giveaways to a select few companies and instead pursue a cityeconomic strategy that grows whole sectors of small businesses in emergingindustries – from technology, to green jobs, to food exports, to advanced manufacturing – companies that can generate good jobs at decent wages in all five boroughs."
He continued to paint the tale of two cities where the recession ended for some businesses, neighborhoods and New Yorkers. "Yet for millions in this city – New Yorkers living in all five boroughs – the economic rebound hasn't just been slow in coming. It seems a distant fantasy – with the ladder up to the good life stretching farther and farther out of reach."
De Blasio spoke of the city's widening income inequality gap. He said, 46 percent of New York City's residents live at or near the poverty line. The middle class isn't just squeezed, it's at risk of disappearing altogether. "Despair does not dissipate. Those who are discouraged – even hopeless – about their future…cannot contribute their labor or energy or values to their neighborhoods, or to the neighborhoods that sit just a short subway ride away."
The American dream does not work without hope, the dream does not function if people believe their chance at a better future is out of reach said the Mayor. He invoked Mayor LaGuardia's vision of government with a soul as he outlined plans to bridge the gap for New Yorkers.
"We want to ensure that New Yorkers aren't relegated to the ranks of the poor when putting in a full week's work." The Mayor said he will ask state lawmakers for the power to raise the minimum wage. "In the process, we will send a powerful signal to the people of New York – that we honor work…and that we are committed to making work pay."
De Blasio who visited parts of the city devastated by Hurricane Sandy said he will make good on his campaign pledge to accelerate Sandy Recovery. In his list of changes for New Yorkers he said ID cards for New Yorkers will become available. "We want to make siure will reach no daughter or son of our city goes without bank accounts, leases, library cards…simply because they lack identification. To all of my fellow New Yorkers who are undocumented I say, New York is your home too and we will not force any of our residents to live their lives in the shadows."
De Blasio laid out a Four-Point job plan for the next generation of New Yorkers. He reaffirmed his administration's commitment to Community Health Care. And he made another push for universal pre-k by taxing rich New Yorkers, a plan facing an uphill battle in Albany.